A Practical Guide to Help Your Patients Quit Using Tobacco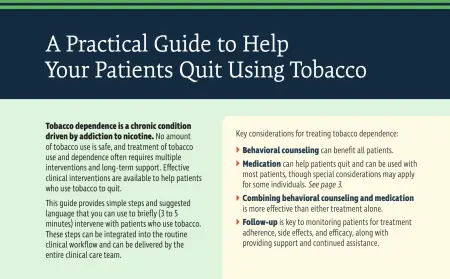 This guide provides simple steps and suggested language that you can use to briefly (3 to 5 minutes) intervene with patients who use tobacco. These steps can be integrated into the routine clinical workflow and can be delivered by the entire clinical care team.
Key considerations for treating tobacco dependence:
Behavioral counseling can benefit all patients
Medication can help patients quit and can be used with most patients, though special considerations may apply for some individuals.
Combining behavioral counseling and medication is more effective than either treatment alone.
Follow-up is key to monitoring patients for treatment adherence, side effects, and efficacy, along with providing support and continued assistance.
Download Link: //assets.ctfassets.net/1p0t6jhbvwk9/22azk9F3T3hjKJz73Ya3hR/ea6928c56fd3bc78498344d0e480a3b8/hcp-conversation-guide.pdf
---
Find more helpful resources at https://hbomich-resource-dashboard.netlify.app/