Blue Cross Complete of Michigan: Tobacco Quit Program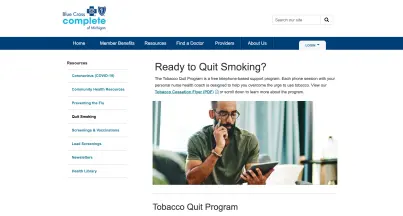 The program offers:
Help creating a plan to quit smoking or chewing tobacco
Guidance, support and encouragement to stick with your plan to quit – Group and individual counseling or coaching
Medicines to help you quit
Blue Cross Complete of Michigan covers all of the over-the-counter and prescription medicines that may be used to help you quit using tobacco. These medicines are covered at your pharmacy with a prescription from your doctor. Over-the-counter medicines may include generic forms of these products, such as Nicorette® (gum or patch) and Commit® (lozenge).
Prescription medicines may include Chantix®, Nicotrol® inhaler, cartridges and nasal spray, generic Zyban® (bupropion) and others.
How to enroll:
To enroll in the Tobacco Quit Program, call 1-800-QUIT-NOW (784-8669), 24 hours a day, seven days a week. TTY users should call 1-888-229-2182.
Resource Link: https://www.mibluecrosscomplete.com/resources/quit-smoking/
Phone Number: 1-800-QUIT-NOW (784-8669)
---
Find more helpful resources at https://hbomich-resource-dashboard.netlify.app/