Help Your Patients Quit Tobacco Use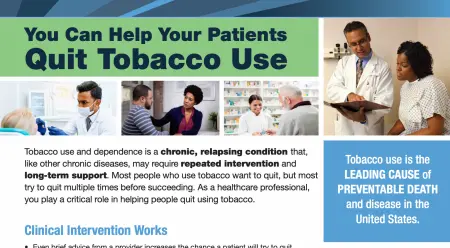 Tobacco use and dependence is a chronic, relapsing condition that, like other chronic diseases, may require repeated intervention and long-term support. Most people who use tobacco want to quit, but most try to quit multiple times before succeeding. As a healthcare professional, you play a critical role in helping people quit using tobacco.
Clinical Intervention Works
Even brief advice from a provider increases the chance a patient will try to quit.
Counseling and medication can double a patient's chances of quitting.
Providing tobacco dependence treatment is reimbursable and covered as a preventive service.
Providing tobacco cessation support increases patient satisfaction with care.
Created by the CDC
Download Link: //assets.ctfassets.net/1p0t6jhbvwk9/5Wb0FKObZovkN9d4BP3uep/e068fbc1a3ccc6bb1a80d6d453228b40/You-Can-Help-Your-Patients-Quit-Tobacco-Use-508.pdf
---
Find more helpful resources at https://hbomich-resource-dashboard.netlify.app/