Integrating Tobacco Cessation Into Electronic Health Records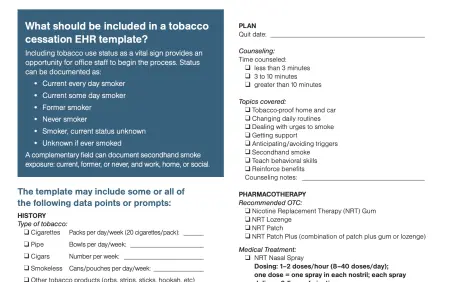 The U.S. Public Health Service Clinical Practice Guideline, Treating Tobacco Use and Dependence, calls for system-level tobacco intervention efforts. Electronic health records (EHRs) allow for integration of this guideline into the practice workflow, facilitating system-level changes to reduce tobacco use.
The American Academy of Family Physicians (AAFP) advocates for EHRs that include a template that prompts clinicians and/or their practice teams to collect information about tobacco and nicotine use, secondhand smoke exposure, cessation interest, and past quit attempts. The EHR should also include automatic prompts that remind clinicians to:
Encourage quitting
Advise about smoke-free environments
Connect patients and families to appropriate cessation resources and materials
The tobacco treatment template should be automated to appear when patients present with complaints such as cough, upper respiratory problems, diabetes, ear infections, hypertension, depression, anxiety, and asthma, and for well-patient exams.
Created by the Academy of Family Physicians
Download Link: //assets.ctfassets.net/1p0t6jhbvwk9/41E5VJrxhQxtsVXBcK3xqo/8eb5cf361e72e5987a496e685f281d7c/ehr-tobacco-cessation.pdf
---
Find more helpful resources at https://hbomich-resource-dashboard.netlify.app/