Michigan Tobacco Quitlink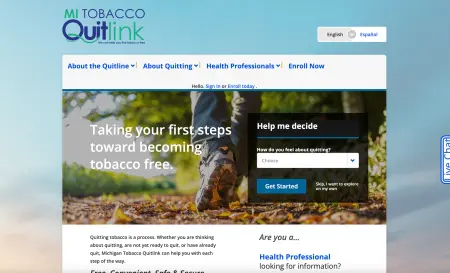 Quitting tobacco is a process. Whether you are thinking about quitting, are not yet ready to quit, or have already quit, Michigan Tobacco Quitlink can help you with each step of the way.
The Quitlink commercial tobacco cessation program uses clinically proven methods to achieve some of the highest quit rates in the country. We help more than 450 people a day in their journey to quit tobacco. With a 37 percent responder quit rate for those who use coaching and nicotine replacement therapy (NRT) and a 90 percent participant satisfaction rate, we are confident in our ability to help your patients live tobacco free.
How do I enroll a patient?
Providers can complete the referral form on the the Quitlink website or by clicking HERE.
What services does the quitline offer?
Phone-based coaching support and additional support via email, text, or instant message. Participants work with trained coaches to prepare a quit plan, set a quit date, identify tobacco triggers, manage cravings, and address relapses. Our standard program includes up to 5 proactive coaching sessions with unlimited inbound contacts. Coaches are available 7 days a week.
Full pharmacotherapy program including nicotine replacement therapy (NRT), education, and coordination of pharmacy benefits.
Planning and educational materials, either through our website or on paper, to help participants map out their road to quitting tobacco.
Membership in an online community with others who have or are working to become tobacco free.
Resource Link: https://michigan.quitlogix.org/en-US/
Phone Number: 1-800-QUIT-NOW
---
Find more helpful resources at https://hbomich-resource-dashboard.netlify.app/